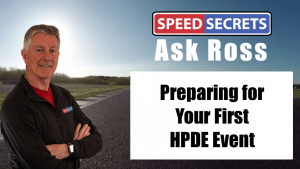 Q: "A friend has convinced me to take my Toyota 86 to what he calls a HPDE event. What can I expect, and how should I prepare?"
A: First, a friend and I wrote an eBook with the goal of answering your exact question. We call the HPDE 1st-Timer Guide, and you can download it for free by going to https://hpde-1st-timer.com.
Rather than simply repeating what we wrote in this eBook, I strongly suggest you download and read it. It's an easy read, and covers:
What to expect at your first event(s).
How to prepare you and your car.
The answers to commonly-asked questions.
How to make the most of your HPDE experience – stay safe, learn and have fun!
If your friend has been participating in HPDE (High Performance Driver Education) and track day events for a while, go with them. While everyone you meet at the track will be helpful, having a friend who can tell you where you need to be, and when, makes for a more relaxing experience.
One last thing… after you've done a few HPDE events yourself, do like your friend did and invite another friend along. The more friends you bring to the track, the more fun you'll have. And, it helps build our sport.
Have fun!
NOTE: If you don't want to wait for me to answer your question(s) here, you can always use my new SpeedSecrets.ai by signing up at SpeedSecrets.ai. The real beauty of using this app is that you can get out of your car after a session on track, and immediately ask it questions and get your answers, as well as what you should work on for the next on-track session. Since it's "trained" only with my content, it really is like having me with you at the track.