Helping You Be An Even Better Driver.
Drive Faster, Smarter & Have More Fun.
It's all about YOUR results…
Everything I do – the coaching, the eCourses and eBooks, the podcast, webinars & presentations, tips & YouTube videos… they're all meant to do one thing: help you get the results you want. What those results are, that's up to you – driving faster, more consistently, safer, getting into the zone more often, saving money, having more fun, or whatever. Below are just a few of the resources to help you get the results you're after. – Ross Bentley
Now, both real-world & sim racing…


Or, take your sim racing to the next level with a huge library of driving technique, racecraft, car setup, track info & mental game training, as well as proven practice strategies.
Note: If you do not see a "Join"/signup box on this page, your internet browser popup settings are blocking it. No worries, because you can click here to get to it.
Extra! Extra! Read All About It!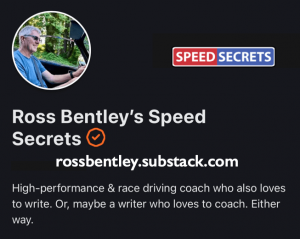 Tips, opinions, stories & whatever else I like to share with you about high-performance & race driving, sim racing, coaching, recent motorsport events & stories from the road. Oh, and the lessons I've learned from six decades in & around motorsport. If you've put up with some of my other writing in the past, such as my books and magazine articles, this is where all my latest word-ramblings are and will be. I hope you enjoy reading what I have to offer… but only when you're not driving on track!
Resources to help you improve your performance and/or race driving.
Coaching
Individually or as a group, in-person or remotely, Driver Coaching is the foundation of Speed Secrets. My promise is to provide the most complete driver coaching services available.
Information
Speed Secrets is your source for driving tips, articles, books, eBooks, eCourses, webinars & videos all aimed at one thing: to help you be an even better Performance or Race Driver and/or High Performance Driving Instructor.
Presentations
Seminars, workshops, keynote talks with a message: to help Performance or Race Drivers and/or High Performance Driving Instructors perform better, presented with a balance between education and entertainment.
"Speed Secrets training really helped me prepare for the transition moving up from karts into proper racing cars. Much of what I learned back then I'm still applying in my racing today, whether it's competing in sports cars, open-wheel cars, or NASCAR. To be honest, there are so many things I use that Speed Secrets taught me that it's now second nature – I've been doing it for so long. I'm very excited to have the opportunity to drive  for a team like Roush Fenway Racing. The opportunity really came about due to my successes in sports cars – I definitely attribute a lot of that success to the foundation that Speed Secrets gave me." 
"Ross Bentley is masterful at presenting complex concepts in an easy to digest, delightfully entertaining manner. A Ross Bentley seminar will 'connect the dots' and will improve your motorsports performance, whether it's racing, autocrossing, rallying, time trials, lapping days, or high performance Drivers Education. A 'must attend' event."
"On behalf of the Genesee Valley BMW CCA and the Niagara Region PCA, I wish to thank you for your presentation at our Instructor Seminar this past weekend. Bill and I have received nothing but kudos and praise for the seminar and that couldn't have happened without your involvement. Your presentation was engaging, thoughtful, inspiring and very pertinent to what we hope to achieve with our respective and combined instructor corps. The seminar was a great venue for energizing and motivating our instructors for the season at hand and we hope to explore ways to do future programs with your involvement. Thank you."
Quick FAQs
Who do you work with?
Well, just about anyone or any group that wants to improve their driving or instructing performance, such as:
Car clubs
HPDE Drivers
Track Day drivers
Club racers
Pro racers
HPDE Instructors
Race teams
Road racers
Oval racers
Motorcycle racers
Rallycross drivers
So, you don't only coach pro drivers?
No! I enjoy coaching drivers of all levels of the sport, no matter what age, experience level, or type of motorsport. Actually, I pride myself on the fact that I work with all sorts of drivers, and I know it makes me a better coach because it forces me to relate to all levels.
Is the content in your eBooks the same as in your Speed Secrets books?
No, it's all-new and different. If anything, it compliments what I've written in my
Speed Secrets
books. That can also be said for my
Speed Secrets Weekly
e-newsletter. A kinda motto I have is "As I learn, you should learn," therefore I'm constantly writing new material.
How can my club arrange to have you do a seminar or talk?
Just have whoever is in charge of these types of events contact us by email. We'll take it from there (but feel free to encourage those decision-makers…). We'll give them all the information they need – pricing, availability, content, requirements, etc.
Some of the organizations I have worked with are:

Let's Connect
Drop me a line anytime, and let me know how I can help you.