Podcast: Play in new window | Download
Subscribe: Apple Podcasts | Google Podcasts | Amazon Music | Stitcher | RSS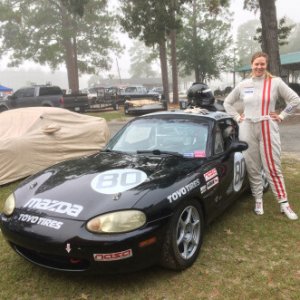 Ann Morey joins me to talk about how to get in the zone, what gets in the way of doing so, the voices we all have in our heads when driving, self-critique versus self-awareness, experimenting to learn, and the journey she's on to win Spec Miata races.
Ann writes a great blog about her racing and driving experience at GentleWomanRacer.com. She started doing Driver Education track events about 5 years ago, got addicted to the sport, and now races a Spec Miata in the Southeast.
And if you're interested in the Virtual Track Walk videos I mentioned, check out www.SpeedSecrets.com/Virtual-Track-Walks.