Podcast: Play in new window | Download
Subscribe: Apple Podcasts | Google Podcasts | Amazon Music | Stitcher | RSS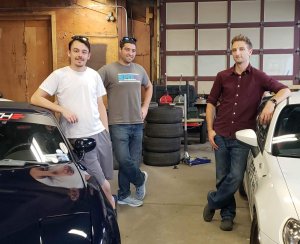 Mike Smith, Josh Herbert & Chris Graham join me to talk about their experience moving from HPDE to Time Trials and now to wheel-to-wheel racing in NASA Spec Miata. They share thoughts on the highs and lows, costs, and what they've learned. Mike talks about how he's striving to improve his vision skills, they tell us about how they're finding and working with sponsors, and Josh shares a great Speed Secret: Just go to a track day and drive!
Mike Smith, Josh Herbert & Chris Graham started and run Spec13 Motorsports, and have fun learning and helping others. You can follow them and their team through their website at www.spec13.com, and on social media at www.facebook.com/spec13motorsports and @spec13motorsports.
To register for the Self-Coaching for Drivers webinar, go to SpeedSecrets.com/Self-Coaching.