Podcast: Play in new window | Download
Subscribe: Apple Podcasts | Google Podcasts | Amazon Music | Stitcher | RSS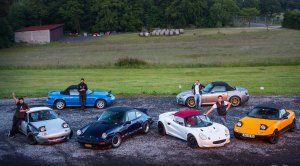 Kostas Sidiras & Serxio Veiga join me to talk about… well, anything they want. These guys are so much fun – and we even learn something from them! We talk about driving the Nurburgring, Spa, Mosport, Ring Bananas, Fiat Multiplas, and Porsche GT3s. More importantly, we talk about why we do what we do, and what car people are really like (hint: they might not be normal).
Kostas and Serxio (and friends) have a fun YouTube channel called One Lap Heroes, and both work at RSRNurburg and RSRSpa as instructors. Not surprisingly, they are hardcore car people – who love to have fun! You absolutely must watch their One Lap Heroes YouTube videos.
Kostas' Speed Secret: don't be afraid to be slow and make mistakes. Learn from it.Serxio's Speed Secret: never stop learning.
If you're interested in joining our trip to the Nurburging in August, check out the info at https://SpeedSecrets.com/Ring.
Follow: