Podcast: Play in new window | Download
Subscribe: Apple Podcasts | Google Podcasts | Amazon Music | RSS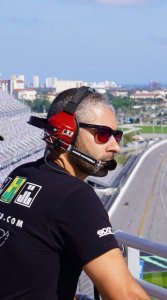 On this week's Speed Secret Podcast, Jonatan Jorge joins me to discuss what's made him so successful as a coach, when a coach needs their own coach, and looking outside motorsport (at other sports) to learn how to be a better coach and driver. We also get into the misconception of looking way ahead and through the corner, the value of checkpoints, different references for different drivers, and visual pattern matching. As a bonus, Ross shares his "vision process."
Jonatan's speed secret: Know yourself.
Jonatan's second speed secret: Expect nothing, accept everything.
Jonatan Jorge has been racing and coaching since 1991 and leads JJRD's operations, coaching philosophy and service delivery. He has made a mark in the racing world both as a driver and coach in auto racing's most highly respected series and echelons, including:
–  Nascar
–  British Formula 3
–  Turkish Formula 3
–  Skip Barber National and Regional Series
–  Formula Ford 2000
–  Grand Am/Rolex Series
–  IRL
–  American LeMans
–  World Karting Championships
–  Brazilian National Karting Championships
–  Tens of unbroken track and race series records
–  Vehicle Manufacturer Events, Commercials and TV productions, and many others.
Check out Jonatan below!
http://www.teamjjrd.com
@jjrdinc on social media