Podcast: Play in new window | Download
Subscribe: Apple Podcasts | Google Podcasts | Amazon Music | Stitcher | RSS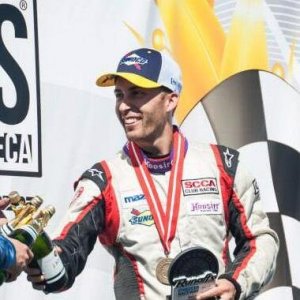 On this week's episode of Speed Secrets Podcast, Brian Ghidinelli, founder of Motorsportsreg.com, joins me to talk about how to make a comeback in racing, focusing on the basics – vision, braking, steering, throttle – first, then racecraft and the track, the importance of focusing on one's own performance and not the lap times or competition, and how competitive nature can interfere with having fun! Brian also shares his personal experience with preparing to compete in the SCCA Runoffs at Indianapolis Motor Speedway in October 2021, and how Hagerty purchasing MotorsportReg.com has impacted Brian's life. We also get into how the pandemic has impacted the motorsports.
Brian's Speed Secret: You see in your own performance what you want to see or what you can see – you have to get someone else without your filters to help find the details.
Check out Brian below!
Hagerty.com
MotorsportReg.com
@ghidinelli
When eight-year old Brian was told he would never curl his tongue because it was hereditary, he practiced in front of the mirror for days until he learned. He has stubbornly ignored conventional wisdom since.
Brian was the founder of MotorsportReg.com, a CRM, commerce platform, and marketplace that makes it more fun to organize and attend motorsport events. He is currently the Managing Director of Hagerty Motorsports since Hagerty acquired his company in 2019. Behind the screen, he leads a team helping more than 1,300 clubs, racetracks and sanctioning bodies organize, promote and manage 7,000 events annually. Behind the wheel, he is a national racer, championship winner and two-times winner of the 25 Hours of Thunderhill endurance race.
Previously, Brian co-founded San Francisco design and technology firm VFIVE. Award-winning web work for Macromedia, Yahoo and Billabong led to an acquisition by global agency IconMedialab. He also once played the role of journalist, flying in a Soviet-era helicopter to cover the TransSyberia Rally from Moscow, Russia to Ulaanbataar, Mongolia for SPEEDTV.com.
Brian lives near Sonoma Raceway in San Rafael, California with his wife, dog, racecar, motorcycle and shifter kart. He is a dual American-Italian citizen thanks to his Nonno. He serves on the board for Thunderhill Raceway Park.