Below you'll find links to the recording of the Improve Your Racecraft webinar, PDFs of the key content I shared, the Chat Log, and the link to The Racer's Mindset video. Please understand that these are for your own purposes only, and I trust that you will not copy, reproduce or share them without my permission.
I also highly recommend you check out Ian Korf's blog at You Suck at Racing – particularly these two posts:
Ian has written tons of great information about racecraft, and has a whole catalog of videos of "what not to do." You can learn a lot from his site.
Please take less than 5 minutes to share your feedback with me about the webinar by filling out the short survey at www.surveymonkey.com/r/Y6VG3KT. Thanks!
And thank you for participating in the webinar, and especially those of you who shared questions and answers. It's fun to see the way the community shares.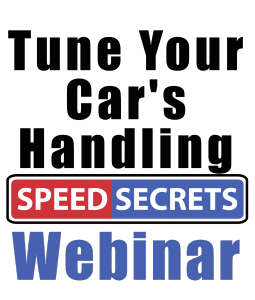 My next webinar is Tune Your Car's Handling with Jeff Braun, on April 23rd & 24th (yes, 2-parter!). You can find more information at https://speedsecrets.com/tune-your-handling/. Jeff and I both hope to see you on that webinar. (Pssst… Jeff is amazing at explaining car setup stuff)
Keep learning and having fun!