You can't improve what you don't measure. Tap into your full potential with the TAP assessment, and a personal guide through the use of it by Dr. Robert Troutwine…and improve your driving mindset.
My own sweet spot is in coaching the mental game of performance and race driving, and in this webinar I'm hosting renown sports psychologist Doc Troutwine to help you improve your mindset, and drive consistently faster. We all know that the mental game is critical to our driving performance, but what we don't know is what to do about it. The Troutwine Athletic Profile (the "TAP") is a proven method, used by the best athletes and teams in amateur and professional football, baseball, basketball, and other sports. It identifies key strengths and weaknesses of your mental game, and then provides a plan for you to implement it.
In the Mindset Training for Drivers webinar, Dr. Troutwine shares with you what some of the best athletes in the world use to improve their mental performance. You'll then have those tools for your own mental game.
BONUS
With your webinar registration, you'll get full access to your own TAP assessment – a $69.95 value.
"What?! I pay $69 for the webinar, get all the content and information from Dr. Troutwine and Ross Bentley, and on top of that I get the TAP program at no extra cost?"
Yup.
What will I get from this webinar?
Learn the mental skills & traits most important to success in motorsports
Mental tips and techniques to improve your driving performance
Take the renowned Troutwine Athletic Profile (TAP) assessment to learn your athletic mindset, including your mental strengths & traits to improve
Is this for you? It is if…
You're an inexperienced or experienced HPDE or track day driver
You're a club, vintage/historic or pro racer
You're a rally or rallycross driver
You want to improve your overall driving performance
You want to consistently drive faster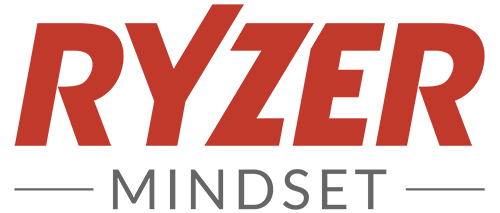 Dr. Robert Troutwine began assessing athletes in 1984. His Troutwine Athletic Profile (the "TAP") has been used by dozens of championship winning teams including the New England Patriots, San Antonio Spurs, and Kansas City Royals, as well as the Navy SEALs.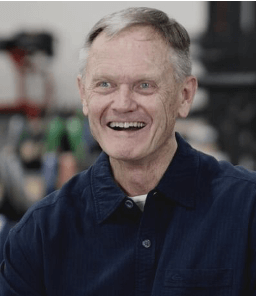 "For Bill Belichick and the Patriots, the TAP has been a part of their evaluation process for years. Has been going all the way back to Belichick's days as head coach in Cleveland, in fact. Tom Brady took the TAP in 2000. Same for Jimmy Garoppolo in 2014 and many, many others across the league.
"'Dr. T had certain insights on guys that we didn't have,"' Belichick is quoted as saying on a TAP handout that circulated at the Indianapolis Convention Center during the combine. "'We brought him in so he knew our staff and our philosophy. I think a lot of Bob and what he does.'" NBC Sports Boston, April 23, 2020
What is the TAP?
The TAP is a 25-minute online survey that measures the mental intangibles important to success in sports such as Mental Toughness, Confidence, and Decisiveness.
The TAP has a 35+ year track record of success in pro sports. Athletes and teams from 10 pro leagues use the TAP to gain a mental edge including the last two Super Bowl winners: the Kansas City Chiefs and New England Patriots.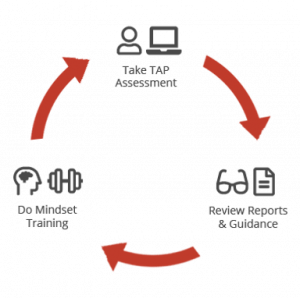 What do I receive after completing the

 TAP?
Upon TAP completion, you will instantly receive your Athlete Profile report that includes:

Which of the 8 successful athlete archetypes you match with and the pro athletes that share your type
Your scoring on the 12 TAP Performance Traits to learn your mental strengths and topics for improvement
Custom sports psychologist commentary from Dr. Robert Troutwine and suggestions for improvement
What can I do with this information to improve

?
Self awareness is the first step to improvement, so understanding one's mental strengths and weaknesses is critical.
Receive access to Ryzer Mindset's online mindset training content to shore up your strengths and improve your weaknesses.
How do I get my own TAP assessment

?
Included in your registration is your own TAP report (a $69.95 value). Within 24 hours of registering for the webinar you'll receive a link from Ryzer.com to complete your own TAP assessment. During the webinar the assessment will be explained.
Learn the mental skills secrets that made the Kansas City Chiefs, New England Patriots, Seattle Seahawks, Kansas City Royals, Atlanta Braves, Houston Rockets, Indiana Pacers, Purdue University, Toyota, Army National Guard, and others so successful.
Since subscribing to your webinars & becoming aware of Speed Secrets, my on-track performance has improved significantly. Which for person who is well-tenured, more so than many who participate in this sport, is not too bad.
Limited Enrollment
The sooner you register, the better your chances of getting into this webinar.
Register NOW and pay only $69!

 Tuesday, June 23rd, 2020
5:30pm Pacific/8:30pm Eastern
NOTE:
Registration closes on June 21st!
As with all Speed Secrets webinars, this one will end with a Q & A session. You get to ask whatever is on your mind.
The webinar will last at least 90 minutes, but likely longer (depending on your questions). And if you register but can't participate on June 23, you'll be able to download a recording of the entire session and all of the resources I provide. The disadvantage of not participating in the Live session is you can't ask questions (but someone is likely to ask the same one); the advantage is you can replay the recording at your own leisure.
Ross, thank you for all of your enthusiasm and the time you gave to patiently answer questions and go over your material. It was invaluable to this club driver! Your teaching style is excellent and really connects with me. I also enjoy your Speed Secrets newsletter and your track videos.
What about you?
What are you doing to help your on-track driving performance?
What else could you be doing?
Could your mental game be improved?
Ross's Speed Secrets webinars have been great learning experiences for me. They're very convenient, and in a short amount of time I get information from him that I can use the next time I go to the track. Very practical and useful. I only wish that I could have them all to myself!
Frequently Asked Questions
Will I be given any notes or hand-outs?
Absolutely! The presentation will be posted online for you to download after the webinar, as well as any resources I talk about during the session.
What if I sign up, but can't be on the webinar?
The webinar will be recorded and you'll be able to access and download it after the session (if you've registered for it). You'll still get all the materials and information, but obviously you won't be able to ask questions during the live session. (And we'll miss you…). However, you will be able to watch the recording at your own leisure, on your own schedule.
Will there be an opportunity to ask questions?
Yes. It would be a little boring if not! So, throughout the session, I'll take some questions. Then, at the end, we'll have a Q&A session (that's my favorite part!).
I've never taken a webinar before. How does it work?
After registering, and prior to the webinar, you'll be emailed a link to sign in. To participate in the webinar, you'll need to be online on a computer (although you could listen on a phone, but obviously, you'll not have access to the visuals). A few minutes prior to the start of the session, click on the link and sign in – you'll have the option of listening through your computer or on a phone.
During the webinar, you'll be able to view my presentation slides while I talk through the topics, plus you'll have the opportunity to send in questions. I will try to answer as many of the questions as possible as I go through the presentation, and then I'll set aside some time for Q&A at the end of the session.
If this is your first webinar, you'll find out just how great a learning experience it is. You'll learn from the convenience of your own home. And no, there's no need to get dressed up (or even dressed!) for it.
Expand Your Performance Envelope as a Driver