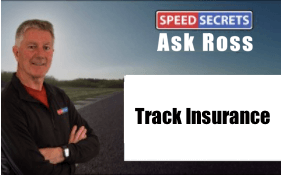 Q: "I'm fairly new to the sport of track driving, and I'm wondering whether I should be insuring my car when I do track events? I've looked at the cost of track day insurance, but not really sure it's worth it. What do you think?"
A: First, I'm nowhere near being an expert on this topic. And when I was at a point in my driving career where I had to worry about crash damage and the cost of it, track day and/or HPDE insurance didn't exist. So, I'm going to do two things here. First, I will give you a few of my thoughts on the subject. And second, I've asked my friend Ryan Staub to provide his advice. Ryan is a car guy, a track driver, racer, chief driving instructor for his chapter of the BMW CCA's HPDE program, and runs Lockton Motorsport. Most importantly, I trust him fully to give a balanced response to your questions.
The decision about whether track day insurance is worth it is no different from the decision on any other form of insurance. If you can afford to push your car off a cliff and feel okay about that, then insurance is probably not worth it. If that would put a financial strain on your life, then you need to consider insurance.
The decision is mostly a risk assessment exercise, right? If you think there is enough of a risk of damage that it's going to cause a financial hardship if something happens, then you should get it. But also, if you think the thought of damage is going to impact your state of mind when driving on track, you should probably get insurance, too. I've "driven with my wallet" in the past, and it's not as much fun. I'm not saying that once you've purchased insurance, that you should go crazy on track! But the peace of mind that comes from knowing that you've limited the financial risk as much as possible will lead to better driving performance.
Okay, those are my thoughts. Time to hear from Ryan Staub:
"Track Day insurance ranges in cost depending on a variety of factors including: vehicle value, deductible option selected, track where the event is conducted, and organizer of the event. While rates vary from insurer to insurer, premiums for a $30,000 vehicle typically fall between $190 and $230 per event; premiums for a $60,000 vehicle typically fall between $370 and $410 per event; and premiums for a $90,000 vehicle typically fall between $560 and $600 per event.
"The value of Track Day insurance varies depending on the unique circumstances for each track day enthusiast. For an individual that has a relatively low-cost dedicated track car and a healthy bank account, the value of track day insurance might be relatively low. If they have an incident that causes considerable damage to their car, they might easily have the funds to either fix the car or buy a replacement. For an individual that has a loan on their car and/or uses a vehicle in Track Days/HPDE that acts as a primary mode of transportation away from the track, Track Day insurance can be a very high value. While insurance certainly helps from a financial security perspective (not having to pay for the cost of repairs), it also adds to the peace of mind of a driver to ensure they can focus on fun and learning, rather than potentially driving nervously and being more focused on the consequences of track driving than enjoying the experience."