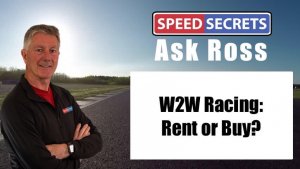 Q: "I have a dumb question for you. I'm older (mid 40's) and I am really enjoying track day events in my car. I'd like to do W2W (wheel-to-wheel) racing. Would you recommend a budget-built car and racing in local clubs, or gain experience by renting a race car and have the freedom of renting from well-funded teams locally and throughout the nation?"
A: I'm glad to hear that you're planning on W2W racing, as it takes trackdriving to another level… no, a few more levels.
If it fits your budget, I'd suggest renting a car or cars from someone else instead of owning your own car. Why? I've seen too many drivers spend a lot of money on a car, then spend a ton of time (or more money paying someone else) preparing it, and that takes away from what you should be focused on early in this journey: learning to race. I've even seen drivers quit after a very short period of time because the effort and cost it took outweighed the fun factor. When you rent a car, you just show up at the track with your driving gear, get in and drive. The car owner has the headaches that come with owning and prepping it.
I've also seen drivers buy a car to suit a certain class or type of racing, only to find out that they would prefer something else. Rent a car and try different forms of racing – sprint, endurance, high- and low-horsepower cars, maybe open wheel cars, classes with lots of cars, etc. In fact, that one point – classes of racing that have lots of cars to compete with – is important. You'll learn a lot more by being in a class that has many cars.
I'd suggest not getting locked into any one car or team in the beginning. Think about it as you're gaining as much experience as can in as short a period of time. If you can, spend a year trying sprint races, endurance races, working with different teams and different cars. That way, you'll learn what it is you really want to do.
Budget is always a factor, but sometimes what seems cheaper ends up not being that way. I know drivers who thought they could save money by purchasing a $20,000 car and running it themselves, only to have it end up costing more by the time they pay for all the updates, repairs, logistics, etc. I've also seen drivers who wanted to switch to another car or type of racing, but get stuck with trying to sell their current car before being able to buy the next one. Rarely does owning your own car end up costing less than renting one.
Most important, do what is most fun. Despite what I said above, you may be the type of driver who likes to work on their car more than they do driving it. In that case, maybe buying a car is a better option.
So, there you go… my two cents worth.
NOTE: If you don't want to wait for me to answer your question(s) here, you can always use my new SpeedSecrets.ai by signing up at SpeedSecrets.ai. The real beauty of using this app is that you can get out of your car after a session on track, and immediately ask it questions and get your answers, as well as what you should work on for the next on-track session. Since it's "trained" only with my content, it really is like having me with you at the track.