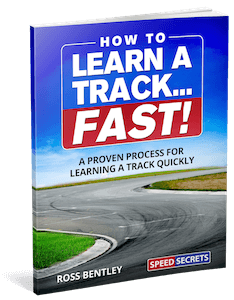 FREE eBook:
How to Learn a Track… Fast!
Just enter your name & email address, then click Download.
Whether you're going to a track for the first time, or you're looking to refresh your memory, the How to Learn a Track… Fast! eBook provides a 22-step process to help you get up to speed quickly and safely. Everything from the use of track maps, simulators, video, coaches, to the good ol' physical track walk, there's a right way to get the most out of these steps (and there's the wrong way, which I don't both covering!).
Note: If you do not see a signup box above, your internet browser settings are blocking it. No worries, because you can click here to get to it.
Here's what's waiting for you inside...
Track map
Mental imagery
Video & data
Simulators
Track references
Coaching
Track notes
And more…
One of the things I enjoy most about performance driving and racing is going to a track I've never been to before. I remember the first time I went to Sebring for the 12-Hour race… I had 20 minutes of practice before qualifying, and I'd never seen the track before (this was well before online videos and simulators). Using much the same process I outline in this eBook, I had a blast qualifying the car on the front row. My goal for this eBook is to help you get up to speed as quickly as possible to take advantage of the limited time you have on track. Have fun learning – or re-learning – with the process I provide in the eBook.
– Ross Bentley
"I enjoy your style of writing/teaching. It lines up with my slow, steady nature of taking the information from the text to the actual application of the information to the car. You have taught me a great deal that I am using every time I put a helmet on."