On the last day of the 1993 Indy 500 qualifying, with a completely new engine in my car—a Chevy Ilmor "A" engine, and not a Buick turbo built and prepared by the previous engine builder—I watch as rain drizzles over the track. Indy cars don't run on oval tracks like the Speedway in the rain, as the consequences of spinning out of control and hitting a concrete wall are so much higher on a slippery wet track. So I dejectedly sit hoping for a chance to make a qualifying run. With about an hour left in the day, the rain stops and the track dries out.
Shaking with fear—of being pitched into a wall and being killed, of not having time to qualify for the Indy 500, of not living up to the promises made to my sponsors—and frustration, I step into the cockpit once more. Doug straps me in and I head onto the track to begin half a dozen laps of practice prior to making a qualifying attempt.
With less than thirty minutes left, a car that really needed a full week of development to make it perform far better, and hands that can barely hold the steering wheel, I step out of the cockpit. My car and I are not fast enough to qualify.
Sitting on the pit wall, I hang my head. I choose to keep my helmet on, visor closed. It is over. I won't qualify for the Indy 500. I won't race in the Indy 500. I desperately try to catch my breath.
Decades later, I still feel the pain.
* * * * *
Sitting in a sports bar with Robin and several friends a few weeks after the 1993 Indy 500, we watch one of those sports blooper shows highlighting the crazy and stupid things people do. Suddenly our laughing stops cold when the screen shows a red-and-white Indy car wiggling to a halt on the front straight of the Indianapolis Motor Speedway, and its driver rolls down the front of the car and begins writhing on the track surface. I look at Robin and her eyes tear up. I struggle to catch my breath as I make fun of the fact that now I've really made the big time.
To this day, I sometimes wake up in the middle of the night in a panic, as if on fire again. Not able to breathe. Clogged sinuses from a cold is the real reason, but it triggers a memory, a program, somewhere in my mind that says, "Gotta get out. Need air."
Recently, I was getting a massage and lying face-down on the table when my sinuses began to plug up. I was deeply relaxed, like one can only be while having a back massage. Ah…bliss. Drifting off to sleep. Breathe…sniff. Gulp. Need air. Need air! I can't breathe!
In that moment, lying on the massage table with my temperamental sinuses and unable to breathe through my nose, my brain raced back to May of 1993. I broke out in a sweat. I lifted myself up on my elbows to look for air. I needed air!
"You okay?" the massage therapist asked. No doubt, she must have wondered why my skin was suddenly wet with perspiration.
"Yes, I'm okay. Just need some fresh air."
A few weeks later, at around three in the morning while suffering from a head cold, I woke up drenched in sweat. I jumped out of bed and rushed to a window where I could gulp fresh air.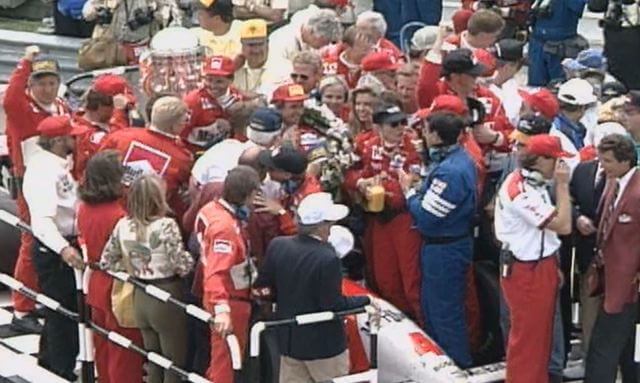 Along with the sense of not being able to breathe comes a sensation of being trapped, a tight claustrophobic feeling. Looking out a window and deeply inhaling fresh air is the cure, the only real cure. I need to see openness. Just the air alone is not enough. That part of my brain needs to know it is not trapped in a car engulfed in 1,800-degree flames.
Indy. Legends have been made here. Drivers have been killed here. Grown men have cried with joy and disappointment. Dreams achieved, dreams destroyed. It's a magical and cruel place.
Breathe…
If you enjoyed this week's story, share it with a friend.