Extra, Extra! Read All About It.
Don't Get Left Behind… Be In The Know.
"Hi Ross, I'm in love with your Speed Secrets Weekly, please keep it up!"
– Huy Huynh
Convenience Defined
Speed Secrets Weekly is delivered to your email inbox every Tuesday morning, in time for you to have recovered from the past driving weekend and with time to prepare for the next. No need to go to a website, Facebook, the newsstand; flip past endless pages of advertising; download another app; search various forums; and who knows what else.
Education & Entertainment
Speed Secrets Weekly does not provide the news – that's what the internet and hardcopy magazines are for! But if you want to learn, if you want to be entertained, then Speed Secrets Weekly is for you. With famous and not-so-famous guest contributors, along with my weekly tips, advice, and stories, the reading is entertaining and educational.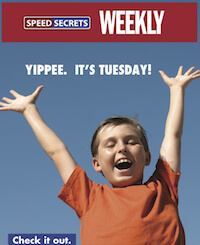 Something for everyone:
Road racers
Oval racers
Rally / Rallycross drivers
Drifting
Track day drivers
HPDE drivers
High performance drivers
Car club drivers
Pro / elite level racers
Guest contributors include:
David Brabham
Colin Braun
Jeff Braun
Brian Bonner
Andrew Comrie-Picard (ACP)
Dr. Jacques Dallaire
Jim Kearney
Peter Krause
David Murry
Ingrid Steffensen
Johannes van Overbeek
Insightful & convenient:
Performance & race driving tips
Data acquisition, simulators & video
Car setup advice
Track-specific info & tips
Thought-provoking quotes & comments
Preparation techniques
Fascinating and/or funny stories
Mental preparation strategies
Motorsport sponsorship advice
Resources, opinions & stories
"Speed Secrets Weekly is, plainly stated, FANTASTIC! Easy to read, easy to understand, just the facts, no BS. And, undoubtedly, the best driving instruction bargain anyone could hope to obtain. Worth much, much, more than the low price we pay."
"A great Tuesday morning read. Each contributor has something important to say & the information is easy to understand. At least one good takeaway or two is in each issue. To top it off, the way Ross adds humor & a quick coaching tip makes it a complete package. It's the best $$$ I've ever spent!"
"I'm impressed with the consistent quality of your publication. It's fueling the fire of my desire to get more instruction to become a better driver. I do track day events and work lots on my car when it's me who needs adjustments. Thank you for caring to do this so well."
Don't Get Left Behind
Get your weekly dose of education and entertainment delivered directly to your inbox. No fuss, no muss, just the info you want, when you want it.