Podcast: Play in new window | Download
Subscribe: Apple Podcasts | Google Podcasts | Amazon Music | Stitcher | RSS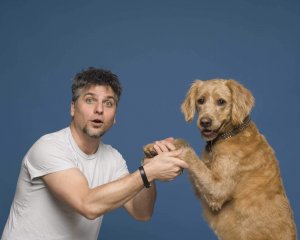 Garth Stein joins me to talk about his wildly successful bestselling book, The Art of Racing in the Rain – and how it's now a major motion picture (premiers August 9th). You'll love Garth's stories, and the behind-the-scenes look at why the book has become so popular, as well as how he was able to describe so accurately what racing is really like (hint: Garth raced Spec Miata).
In addition to The Art of Racing in the Rain, Garth has authored three other novels—A Sudden Light, How Evan Broke His Head and Other Secrets, and Raven Stole the Moon—as well as a full-length play, Brother Jones, which had its premiere in Los Angeles and was described as "brimming with intensity" by The Los Angeles Weekly.
In case you missed it (where have you been?!), The Art of Racing in the Rain is the story of a beloved philosopher dog named Enzo who teaches us everything we need to know about being human. A major motion picture starring Kevin Costner, Milo Ventimiglia, and Amanda Seyfried was filmed during real IMSA race events at Canadian Tire Motorsport Park, as well as Pacific Raceway in Seattle (where the story began). The Art of Racing in the Rain book has sold more than 6 million copies world-wide, been translated into 36 languages, and spent more than three years on the New York Times bestseller list. The novel inspired a Young Reader edition as well as four children's picture books, and a stage adaptation by Book-It Repertory Theatre in Seattle.
Garth's Speed Secret: visualize where you want to be.
Garth's website: http://www.garthstein.com
Twitter: @garthstein
Instagram: @garthstein
Facebook: www.facebook.com/garthsteinauthor