Podcast: Play in new window | Download
Subscribe: Apple Podcasts | Google Podcasts | Amazon Music | Stitcher | RSS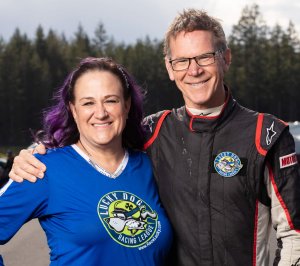 On this week's Speed Secret Podcast, Cathy McCause Fuss joins me to talk about why she got involved with running a race series, how to make a series popular, how to make endurance racing safe, her sponsors (Hankook and Hawk brakes), and giving back through charitable events. She shares about Lucky Dog races and Heroes Motorsports race teams for veterans.
Cathy's speed secret: Be able to see!
Cathy has been involved in endurance racing since driving in the very first Lemons races at Altamont Motorsports Park, then co-founding ChumpCar & being their executive VP for 6 years, partnering with my Chump colleague Joey Todd at WRL when we started Lucky Dog. All this after leaving 25 years in software, most recently as VP Global Marketing for Oracle Utilities.
As North America's fasting growing grassroots endurance series boasting over 600 teams & 3,000 drivers, Lucky Dog Racing League host events at bucket list track such as at WeatherTech Raceway Laguna Seca, Charlotte Motor Speedway, Sonoma Raceway, Willow Springs International Raceway, Utah Motorsports Park, The Ridge Motorsports Park, Buttonwillow Raceway, Pacific Raceways, Thunderhill Raceway Park, Oregon Raceway Park, Portland International Raceway, Spokane County Raceway, Chuckwalla Valley Raceway, Canada's exclusive Area 27 and the Wild Dogs Ensenada Grand Prix on the streets of Ensenada, Baja, Mexico. The 2020 season will culminate at Thunderhill Raceway Park, Willlows CA on the 5-mile track for the Dawg Days of Thunder Championship / 1000 Miles of Thunderhill. The 2021 season will include an event at Circuit of Americas (COTA)!
Check out Cathy below!
https://www.racelucky.com
https://www.facebook.com/raceluckydog
@RaceLucky
@RaceLuckyDog
YouTube: Lucky Dog Racing League