Podcast: Play in new window | Download
Subscribe: Apple Podcasts | Google Podcasts | Amazon Music | RSS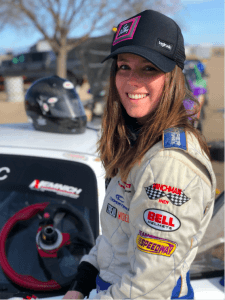 On this week's episode of Speed Secret Podcast, Loni Unser (yes, of THE Unser family) joins me to talk about her absolute love of the sport. Can you guess what the number one thing is that she's learned from her family who has a total of 9 Indy 500 wins? She dishes.
We also discuss the importance of patience in racing, how important confidence is – especially for a woman in racing, and why "never coast" is bad advice.
Loni's Speed Secret: Dedication and hard work – that's what it takes, not matter what level or type of racing you're in.
Check out Loni below:
All social media: @loniunser
Web: www.loniunser.com
With an athletic background in downhill skiing and other line-finding sports, Loni Unser recently discovered her talent for racing. With the support of her famous family, she is rapidly becoming a threat on track. She has raced the Spec Miata classes in NASA and the MX- 5 Cup (4 races), as well as a variety of marquees in the World Racing League and ChampCar, among others.
The young driver carries her family name to a new generation of fans. Her grandfather was Jerry Unser, the first of the famous Unsers to race at the Indianapolis Motor Speedway. From then on, the Unser family has won the prestigious Indianapolis 500 nine times and become known as "The First Family" of American auto racing.
Unser's career is made possible through partnerships with companies that are supporting her development. She has worked with Cooper Tire to promote tire and vehicle safety, placing her at the center of a campaign that provided an invaluable opportunity for her to grow as a marketing property and explore the role of brand ambassador.
She believes in the power of positive role models and hopes to inspire young girls through her activities on and off track and competes as a Shift Up Now athlete as an ambassador for women in racing. Unser is a recent graduate of the Environmental Design program at the University of Colorado Boulder. Unser continues to focus on her development as a driver and looks ahead to claiming her place in the record books. Her future plans will carry her to a full season in Mazda's MX-5 Cup Series, IMSA Weathertech Sportscar Championship and the storied tracks of the FIA World Endurance Championship.