Podcast: Play in new window | Download
Subscribe: Apple Podcasts | Google Podcasts | Amazon Music | RSS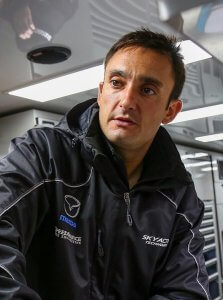 On this week's episode of Speed Secrets podcast, my good friend Tom Long joins me to discuss all things driving styles! We uncover what a driving style is, which driving style is the fastest, and different driving styles for RWD vs. FWD vs. AWD; and for aero versus non-aero cars. Tom also dishes on the importance of "hand speed" – the quickness of turning the steering wheel into a corner.
Tom's Speed Secret: It's all about quality seat time, not just the amount of seat time.
Check out Tom below!
Facebook: TomLongRacing
@TomLongRacing
Tom Long is a professional racer, coach, and development driver. As a Mazda Motorsports factory driver, Tom will continue in his role as the lead development driver and series official for the Idemitsu Mazda MX-5 Cup series. The role is not a new one to Tom, who has been the lead development driver for Mazda's Global MX-5 Cup car since its inception. Racing fans can also cheer for Tom in the IMSA Michelin Pilot Series GS GT4 class this season.
Tom will also continue coaching clients at road racing tracks throughout North America, helping both driving enthusiasts and racers enhance their skills. Racing is on the schedule for 2021, too: Tom will be competing in the GS GT4 class of the IMSA Michelin Pilot Series.