Podcast: Play in new window | Download
Subscribe: Apple Podcasts | Google Podcasts | Amazon Music | Stitcher | RSS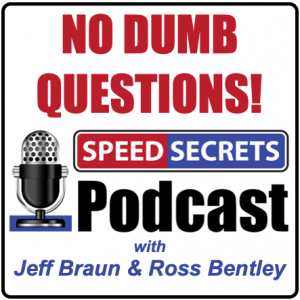 Welcome back to another episode of No Dumb Questions! Jeff Braun and I sit down to answer your questions, and we promise – there are no dumb questions, maybe just some dumb answers.
On this episode, Ross discusses proper head position during cornering, and Jeff dives into the differences in car setup between racing versus qualifying.
Jeff is one of the very best race car engineers in the world. He's engineered cars at every level, and every type: NASCAR, karts, club racing cars, Indy, GT and Prototypes, and even Top Fuel dragsters. But what sets Jeff apart from many engineers is how he can explain what he's doing, what a car is doing, and even how the best think.